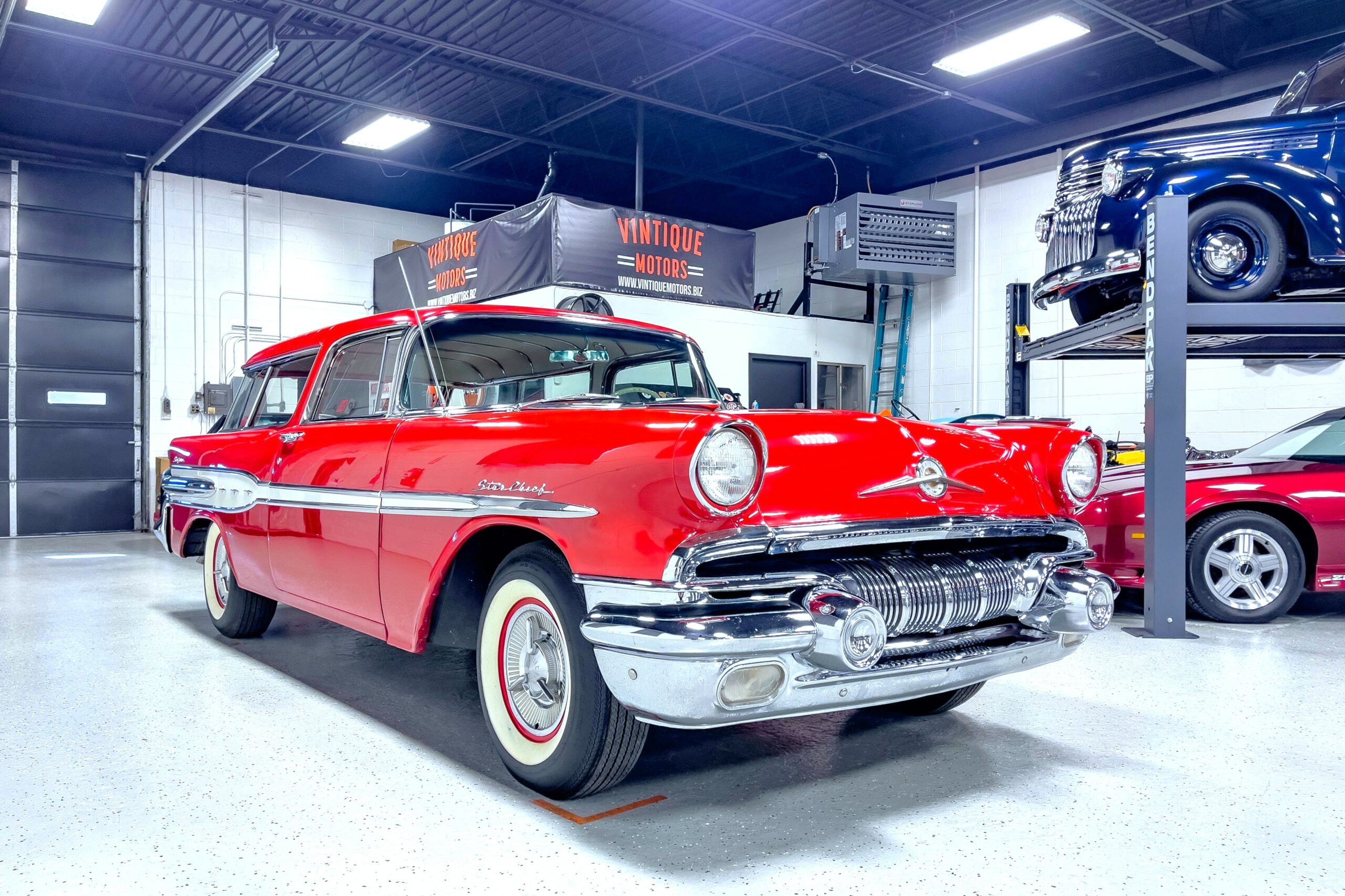 1957 Pontiac
Star Chief Custom Safari
Safari Adventure
Vintique Motors is thrilled to present this beautiful and exceedingly rare 1957 Pontiac Star Chief Safari Sport 2-door station wagon! The Star Chief model was produced by Pontiac from 1954 to 1966 and was positioned as the top trim level which was easily identified by its chrome star trim along …
Safari Adventure
Vintique Motors is thrilled to present this beautiful and exceedingly rare 1957 Pontiac Star Chief Safari Sport 2-door station wagon!
The Star Chief model was produced by Pontiac from 1954 to 1966 and was positioned as the top trim level which was easily identified by its chrome star trim along its sides, a feature all Star Chiefs were equipped with. The second-generation Star Chief was offered from 1955 to 1957 with the major changed coming under the hood from a straight-8 to a V8. Annual changes to the design culminated in the iconic 1957 model as the jet inspired "Star Flight" design debuted with design cues such all the gauges were placed in an oval on the dash and the side trim had a missile-shaped spear behind the front door prevailed.
The 2-door Safari station wagon was offered from 1955 to 1957 which shared platforms with its corporate cousin, the Chevrolet Bel Air Nomad in which just 1,296 Star Chief Safari 2-door station wagons were produced for 1957. The only engine available for 1957 was the 347ci V8 with either a single 4-barrel carburetor or a trio of 2-barrel carburetors. Additionally, there were two transmission options: either a 3-speed manual or a 3-speed Strato-Flight Hydra-Matic automatic.
This 1957 Star Chief Safari 2-door wagon is finished in Tartan Red over a red and ivory interior. It originally left the factory in code PPP Kenya Ivory over code 244 Silver Beige and Ivory leather seats. It is the beneficiary of an elongated restoration which saw the process start and then stall before changing hands in December 2018 to a gentleman from Canton, Michigan who would see the refurbishment through finishing it in July 2022.
During the restoration while under ownership of the former owner, code GGG Tartan Red was selected. The latter owner continued the restoration choosing to match the interior with the exterior colors in which the restoration was completed in mid-2022. Pictures during the stages of the restoration are included in the gallery. After completion he had it judged at the Ames Performance Pontiac Nationals in Norwalk, Ohio in August 2022 where it placed 3rd in the P-2 1955-1960 Stock Class.
Do not miss this rare opportunity to acquire this iconic '57 Pontiac wagon. It is serviced up and ready to go for a cruise.
Basic
Model
Star Chief Custom Safari