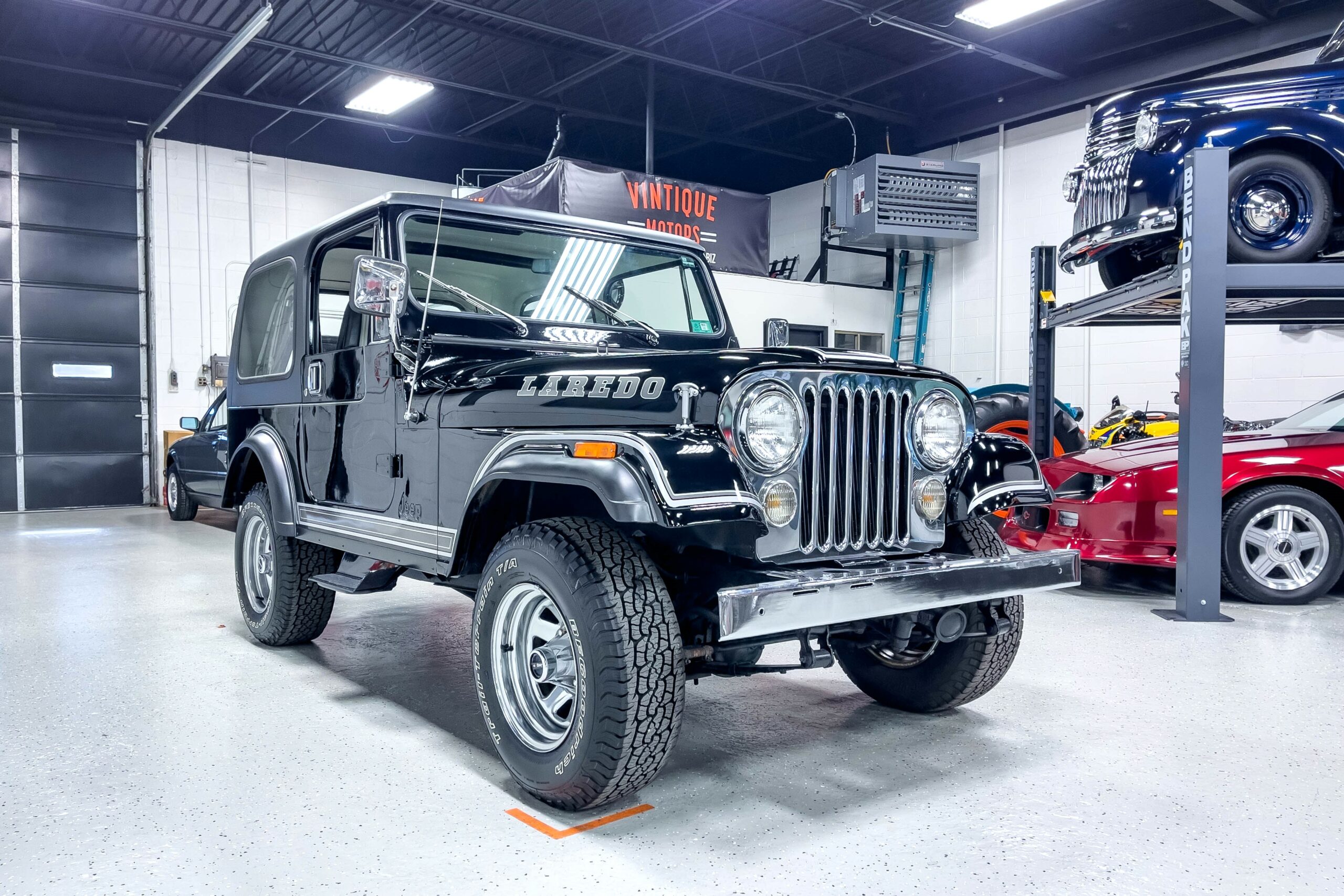 1981 Jeep
CJ-7 Laredo 4x4
Legendary Laredo
Vintique Motors is thrilled to present this beautiful 1981 Jeep CJ-7 Laredo 4x4. The CJ has had quite the impressive lineage of service and use to the U.S. and the off-road enthusiast community starting with the WWII-era 1944 CJ-1 and culminating with the 1986 CJ-7. In total more …
Legendary Laredo
Vintique Motors is thrilled to present this beautiful 1981 Jeep CJ-7 Laredo 4×4.
The CJ has had quite the impressive lineage of service and use to the U.S. and the off-road enthusiast community starting with the WWII-era 1944 CJ-1 and culminating with the 1986 CJ-7. In total more than 1.5 million CJs were produced over its illustrious 42-year production. The CJ-7 was the successor to the CJ-5 and was introduced for the 1976 model year. It was designed and intended to be a more refined and practical Jeep as it featured a wheelbase 10″ longer, an optional automatic transmission, squared off cab entry for hinged doors, improved handling and stability through the longer wheelbase as well as two parallel main C-section frame rails, and springs and shock absorbers located closer to the outside of the body. The improvements were well received and nearly 380,000 CJ-7's were built between 1976-1986 in which 27,767 were produced for the 1981 model year.
This example is factory finished in the top trim Laredo spec in its original color presentation of code P1 Classic Black over code 1EJ Black vinyl Italian purse with vertical stripes high back bucket seats. It was assembled at the legendary Toledo, OH assembly and factory features include the range topping 258ci 4.2L inline 6-cylinder engine which produced 98 horsepower and 193 lb-ft of torque, a Borg-Warner SR4 4-speed manual transmission, Dana 300 transfer case, and Dana 30 front axle and AMC 20 rear axle with a 2.73 rear gear. Additional factory features included with the Laredo trim are a tachometer, quartz clock, hardtop, steel doors, AM/FM stereo, and leather wrapped steering wheel. It rides on BFGoodrich Trail-Terrain A/T radials with 2022 date codes mounted on original wagon wheels.
Per the original paperwork, it was sold new at Papa's Dodge and Jeep in New Britain, CT on 9/30/1981 where it remained with the original owner in Bristol, CT until it was repossessed by the lienholder on 1/12/1984 and subsequently sold back to Papa's Dodge and Jeep on the same day. It would remain in possession of Papa's Dodge and Jeep in their private collection henceforth for the next 39 years until we acquired on 1/15/2023 with 41,902 miles on the odometer and today it presents with 41,916 miles. In the past, Papa's Dodge and Jeep refreshed it with new paint and tires leaving the rest of the Jeep in very good original condition including the interior and engine bay. It has no known modifications and is presented in stock appearance.
We recently invested $1,204 in maintenance and upkeep including a new heater core with heater box, cap, rotor, and spark plugs, battery, an oil and filter change, and updated/repaired in-operable original wiring found during inspection. Included in the sale are a Jeep brochure, the recent service record, and copies of the original CT title and paperwork from 1981 and 1984. Don't miss this opportunity to acquire this desirable '81 CJ-7 in Laredo trim!
Engine
Engine Size
258ci 4.2L Inline 6