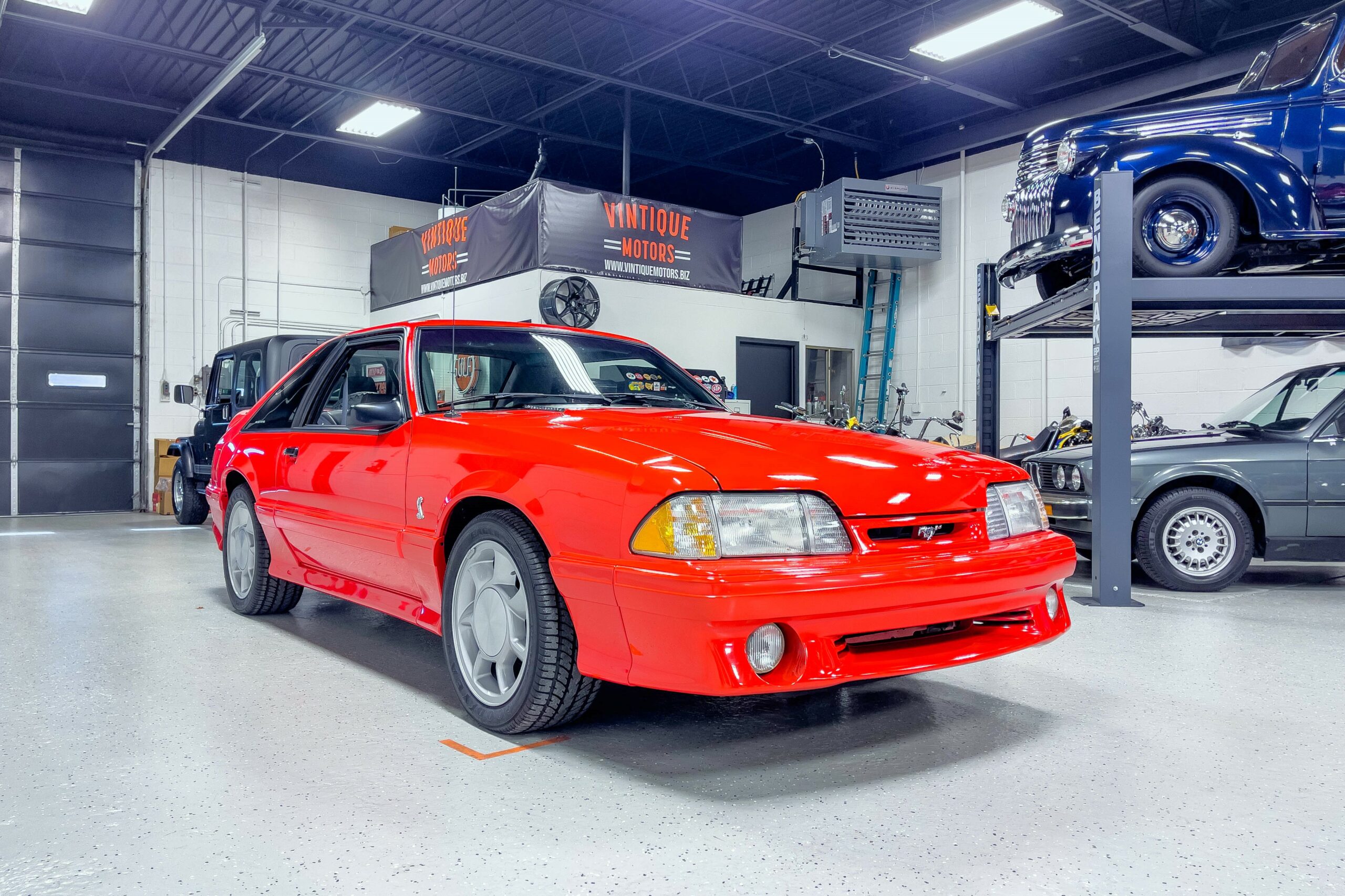 1993 Ford
Mustang SVT Cobra
The Iconic SVT Cobra
Vintique Motors is thrilled to present this 12k-mile 1993 Ford Mustang SVT Cobra! The third generation of the iconic Ford Mustang was released for the 1979 model year on Ford's new fox platform. Designed to be lightweight, the Fox platform was developed to replace the Falcon compact architecture …
The Iconic SVT Cobra
Vintique Motors is thrilled to present this 12k-mile 1993 Ford Mustang SVT Cobra!
The third generation of the iconic Ford Mustang was released for the 1979 model year on Ford's new fox platform. Designed to be lightweight, the Fox platform was developed to replace the Falcon compact architecture dating from 1960. The beloved fox platform came into use for mid-size applications and was best known for underpinning the Ford Mustang from 1979 to 1993. This generation of Mustang is a pop culture icon with the styling and 5.0L V8 well ingrained in movies and music during the 1980's and early 1990's as well as a favorite of racers and hot rodders as they became infinitely easy and cost effective to modify towards drastically increasing its performance.
This 1993 SVT Cobra was built on 4/5/1993 and sold new at Village Ford in Dearborn, MI on 4/30/1993 and subsequently titled in Dearborn, MI where it would spend the next 6 years with the original owner until being acquired by its second owner, also of Dearborn, MI, on 6/28/1999 and then relocated to Whitmore Lake, MI on 10/4/2007. It would remain with the second owner for 11 years until it was acquired by its third owner from China Grove, NC on 6/23/2010. It would remain with the third owner for 12 years until 9/2/2022 when a collector/dealer from Asheville, NC acquired it. We acquired it on 1/15/2023 and today it presents with 12,611 miles.
Per the original Ford documentation and the Marti Report, this example is build # 1,408 of 4,993 SVT Cobra Mustangs produced and it is 1 of 1,000 SVT Cobras produced in Vibrant Red Clearcoat with an Opal Gray leather interior. It is optioned with the $1,455 Preferred Equipment Package 250A, the $523 leather articulating sport seats, the $321 premium AM/FM/CD stereo, the $170 Rear Window Defroster, and $91 for clearcoat for a total MSRP $21,540, minus a $500 option package discount, equating to $21,040. The SVT Cobra package featured the 5.0L V8 rated at 235 horsepower and 280 lb-ft of torque mated to a 5-speed manual transmission with Cobra specific features such as the body work, rear spoiler, and wheels.
Included are the original books, manuals, keys, window sticker, SVT paperwork, Marti report, pre-delivery inspection report, warranty card, spare key mold, and pristine brochure. All of the original VIN stickers are present and in the correct locations indicating a no-hit body and it is all stock aside for undercoating that a previous owner had installed. We recently gave it full inspection followed with a service including an alignment on 3/16/2023 and an oil and filter change on 3/24/2023. Do not miss this opportunity to acquire this 12,600-mile '93 SVT Cobra Mustang in excellent original condition. This is a true automotive icon and in investment grade condition treated as a cherished collectible from day one.
Body
Body Color
Vibrant Red Clearcoat