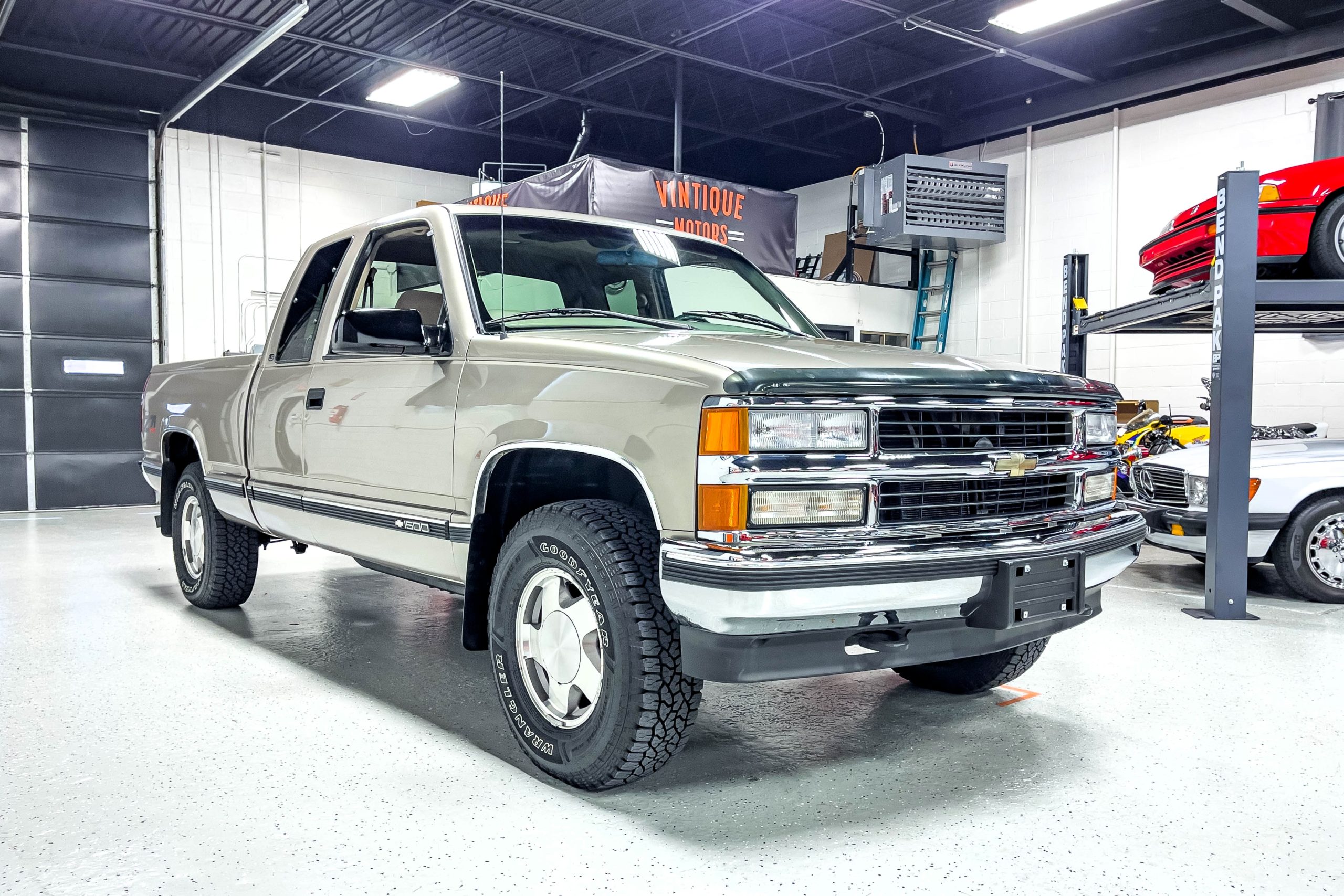 1999 Chevrolet
Silverado K1500 LS Z71 4x4
Vintique Motors is thrilled to present this 1-owner 21k-mile 1999 Chevrolet Silverado K1500 LS Z71 4x4! The fourth generation of General Motors beloved C/K pick-up trucks was released in April 1987 for the 1988 model year and ran very successfully through 1999 on the 1500 model and 2000 on the 2500 …
Vintique Motors is thrilled to present this 1-owner 21k-mile 1999 Chevrolet Silverado K1500 LS Z71 4×4!
The fourth generation of General Motors beloved C/K pick-up trucks was released in April 1987 for the 1988 model year and ran very successfully through 1999 on the 1500 model and 2000 on the 2500 and 3500 models. The GMT400, as it was known internally, was an all-new truck with a much more aerodynamic design and a vastly updated interior poising the truck for a long successful sales run through the 1990s.
The C/K nomenclature was replaced with the Silverado nameplate for the Chevrolet brand and the with the Sierra nameplate for the GMC brand. As the model years progressed numerous updates were made along the way including a mid-cycle refresh in 1995 and a new 3rd door option for extended cab trucks in 1996. And no one can forget the incredible marketing Chevrolet provided for the truck most notably incorporating Bob Seger's "Like A Rock" song as it's lynchpin for the campaign.
This GMT400 Silverado extended cab is one of the ultra-rare 1999 models produced as the last batch of GMT400s in June of 1998 before the new GMT800 replacement launched production in August 1998 for the 1999 model year. This example was built at the Arlington, TX assembly plant and sold new at Hoselton Chevrolet in East Rochester, NY on 7/21/1998. It would remain with its original owner for the next 25 years until a dealer from Avon, NY acquired it on 5/16/2023 with a Carfax verified 21,460 miles. A short time later on 6/8/2023 a dealer from Danville, PA acquired followed by our acquisition on 7/28/2023 and today it presents with 21,575 miles.
It is finished in Light Pewter Metallic over a Neutral cloth interior. It is equipped with $3,317 in desirable options most notably the $700 fuel injected 350ci 5.7L V8 rated at 225hp and 330 lb-ft of torque, $285 for the locking rear differential, $135 for the 3.73 axle ratio, $270 for high back bucket seats, $270 for the Z71 off-road package, $339 for the HD trailing package, $340 for the 16″ cast aluminum wheels, and $290 for the AM/FM stereo with CD and cassette for a total as delivered MSRP of $29,833. Additionally, it features a 4-speed overdrive automatic transmission, shift on the fly 4×4, and the 3rd door for easy access to the rear seats.
This is a well-cared for low mileage Silverado with original paint and interior and just a handful of minor cosmetic imperfections to be found. It is fully up to date on service and is riding on new Goodyear Wrangler Workhorse AT tires sized 265/75 with 2022 date codes. Do not miss this opportunity to acquire on the last GMT400s produced as a 1-owner with just 21,575 original miles. Included with the truck is the original manuals, 1-original key, the original tool kit stowed under the rear seat, and a reproduction window sticker.
Body
Body Color
Light Pewter Metallic
Basic
Model
Silverado K1500 LS Z71 4x4